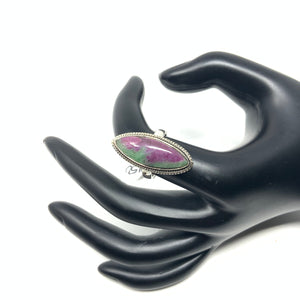 Ruby Zoisite Ring, size 5
Stamped 925.
Size: 5
Ruby zoisite is quite a rare stone.  The vast majority comes from northern Tanzania.  The name anyolite is also sometimes used which comes from the Maasai word 'anyoli' meaning 'green'.  The Maasai prefer to call it ruby in zoisite as an expression of pride that precious ruby can be found on their land.

The name ruby in zoisite is widely used around the world.  It happens to be a more accurate description of what the stone is.

Ruby in zoisite is often confused with ruby in fuchsite which has a very similar appearance.  The vast majority comes from India.  With it more being readily available it's also considerably cheaper.
🔳
🔳 
🔳 
[NYS Taxes Are Included In All Pricing]
{Shipping Charges Will Be Calculated At Checkout}
*small flat rate box suggested*