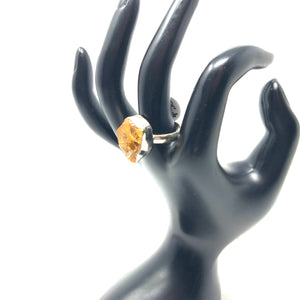 Rough Citrine Ring, size 9
Rough unpolished citrine ring.
Cast in 925 Sterling Silver.
Stamped 925.
Size: 9
Citrine is a semiprecious
gem
that is valued for its yellow to brownish colour and its resemblance to the rarer topaz. Colloidally suspended hydrous iron
oxide
gives citrine its colour. Natural citrine is rare compared to amethyst or
smoky quartz
, both of which are often heated to turn their natural colour into that of citrine.
🔳
🔳  
🔳 
[
NYS Taxes Are Included In All Pricing]
{Shipping Charges Will Be Calculated At Checkout}
*small flat rate box suggested*