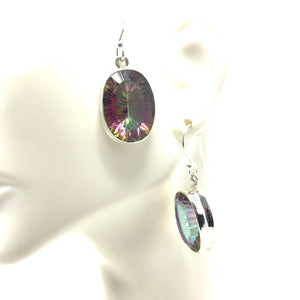 Mystic Topaz Earrings
Faceted mystic topaz Set in 925 Sterling Silver.
Stamped 925.
Length: 20mm
Mystic Topaz is a gemstone that is treated or enhanced and is actually not found naturally. When creating the mystic topaz, a natural and colourless stone is coated with titanium or a similar metal. The coating is only microns thick and the application is done to the stone's pavilion which forms the bulk of the gem.

🔳
🔳 
[
NYS Taxes Are Included In All Pricing]
{Shipping Charges Will Be Calculated At Checkout}
*small 
flat rate box suggested*