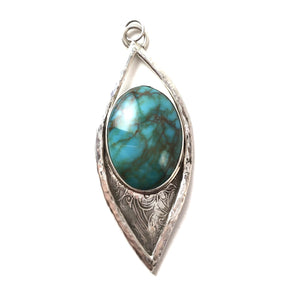 Kingman Turquoise Pendant
Top grade Kingman Turquoise and 925 Sterling Silver pendant from seasoned lapidary artist Vaughn Nagel?
Width: 26mm
Length: 65mm
Much of the turquoise has a white matrix that is often dyed black for better contrast. The quality natural Kingman turquoise produced at this mine is generally medium blue with a "water web" matrix that easily distinguishes it from other turquoise. The best turquoise is a lovely blue with a black web matrix. The Kingman mine also produces a variety of turquoise ranging from pale green to blue with red, brown or yellow matrix.
🔳
🔳 
[
NYS Taxes Are Included In All Pricing]
{Shipping Charges Will Be Calculated At Checkout}
*small flat rate box suggested*