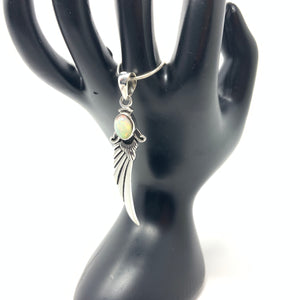 Ethiopian Opal Angel Wing Pendant
Ethiopian Opal and 925 Sterling Silver pendant.
Stamped 925
Length: 54mm
Precious opal mined in Ethiopia began entering the gem and jewelry market in 1994. This opal originated from a discovery made in the Menz Gishe District in the northern part of the Shewa Province. Opal from this area occurs in a wide range of body colors. Much of the opal has a brown, red, or orange body color; however, yellow, white, and clear body colors are also found.
*Chain sold separately*

🔳
🔳
🔳  
[
NYS Taxes Are Included In All Pricing]
{Shipping Charges Will Be Calculated At Checkout}
*small flat rate box suggested*